You have reached the official website of Erik Grow, as well as my wife Christina Rudyj, my family, and my friends.
The last major overhaul of the site was February 2004 (and still in progress). Many of the pages are not done yet, and I know many links are broken. Patience... *;-)
Brushes With Fame Famous people I have met, and live shows I have seen. About half done.
Separated at Birth This is an page, slightly modified, from my old site that I made back in '98. Mostly done.
My Favorite Sites These are the sites where I am a frequent visitor. Not started.
Political Thoughts From candidates to public policy. About half done.
Chris' Section of the Site My wife's part of the site. Not started.
New Orleans Vacation, December 2003 Is that a nutria rat I smell in the fryer? Barely started.
Boston Vacation, April 2001 Fenway Park, Boston Aquarium, and much more! Done.
Everquest Fan Faire, Baltimore, February 2001 Geek alert! Geek alert! Geek alert! Done.
Our wedding/honeymoon in Hawaii, September 2000 I didn't have a digital camera then, so I have to scan any pictures that I post here. It's barebones right now, and it will be awhile before there is a lot more here. Barely started.
Where I came from, where I am, and where I want to be The history of the world, through my own eyes. (Will include a section on my family.) Not started.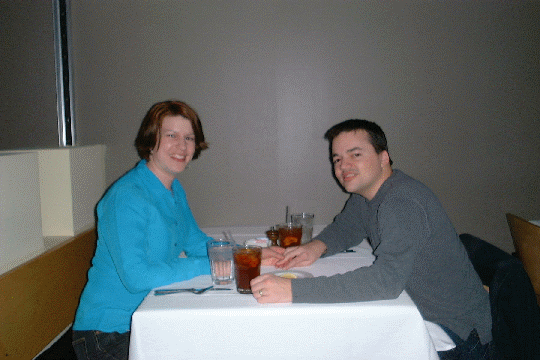 The picture on the left is me, at work around March 2000, when I was a tech support supervisor at Network Solutions. I still work at Network Solutions, but now I am in the finance department. The other picture is from December 2003, on our trip to New Orleans.
Snowball is our cat. She's basically just one of the family. If you ask her, she would probably say that she is the reason we bought our house. Here she is making herself comfortable in the velvet lining of Chris' violin case. We got her in November of 2001 when she was one and a half years old from an organization called Four Paws.